The Memphis Belle
No hobbyist with any kind of knowledge of the Second World War does not know of this iconic aircraft and kit. So I had to do it.
This display is a Revell 1/48 B-17F Flying Fortress
Built entirely from the kit parts. The only addition was the 4 micro motors for spinning the props. Along with the motors is a small circuit board with a mounted 5 switch dip. Switch 1 is main power. The other 4 switches allow for the on-off of each engine independently, for some more dramatic display. The switches are mounted within the open bomb bay.
This was the first and really only time I experimented with applying decals entirely with Future. Decals were released from backing by water as usual but then applied with a cotton swab and Future. Worked out ok, but the more common method of using setting solutions and then overcoating with fine spray of Future is better.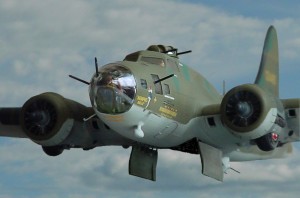 I could not resist a little fun in photo editing software.
UPDATE
Fabricated a new base and dust cover.